In Superstar SMTOWN, the only way to boost your score is to power up [Adding 'stars' to your card] and to upgrade [Moving the card up a grade] your cards.
Cards can be 'powered up' to 5 stars and can be 'upgraded' up 5 grades [From least valuable to most valuable]: C, B, A, S and R [With R99 being the highest].
Powering Up Cards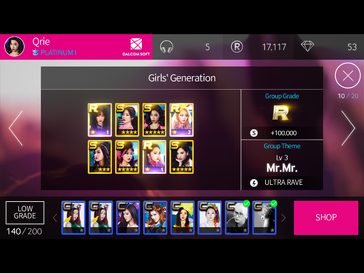 To power up your cards, touch the button on the bottom left of the home screen to go to your card inventory.                                                         
Scroll through the groups by swiping your finger or by pressing the arrows on the sides of the screen.                                                      
In the card inventory, you can upgrade, equip, unequip and sell your cards to gain RP, one of the in-game currencies that are used to power up and upgrade cards as well as buying card packs in the item shop.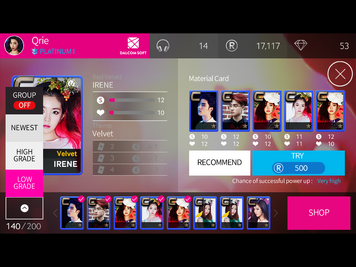 Power up your card by first tapping on the card that you wish to power up.
It is recommended that you turn grouping off by pressing the rectangular button on the bottom left of your screen and pressing 'group' to be able to use any card in your inventory.
Choose the cards that you wish to power up. It will cost between 500 to 53400+ RP so be sure to keep lots of RP handy. 
The max number of stars that a card can be upgraded [Except for R cards that can be upgraded to 99 stars] is 5.
Once your card has 5 stars, the 'Power Up' button will turn into an 'Upgrade' button. 
Upgrading Cards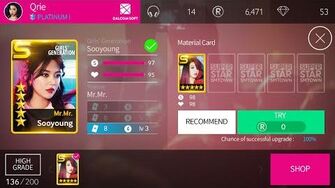 Have two 5 star cards of the same person [Theme does not matter]. The card that you want to keep must be the card that is shown on the left when you press on it.
Press the green 'Upgrade' button and use the other 5 star card as your material card. The material card will be the one that disappears, so make sure you're upgrading the correct one!
Rhythm Points 
Also known as RP, rhythm points are one of the two currencies in the game, the other being diamonds.
They can be earned by playing songs [Amount of RP depends on score], certain rankings on the weekly league, challenges, or by buying them with diamonds.
Rhythm points can be used to power up and upgrade your cards as well as buying card packs.
Ad blocker interference detected!
Wikia is a free-to-use site that makes money from advertising. We have a modified experience for viewers using ad blockers

Wikia is not accessible if you've made further modifications. Remove the custom ad blocker rule(s) and the page will load as expected.