Twinkle is the first single by the South Korean girl group, Girls' Generation-TTS. The single was released the same day as the release of the group's debut extended play Twinkle.
Music Video
The video was released on April 30. It starts off with Taeyeon, Tiffany, and Seohyun getting out of a car with the instrumental of "OMG" (Oh My God) playing in the background, whilst a large amount of paparazzi are taking photos as they greet and smile to the cameras. One of the paparazzi is EXO-K member Park Chan-yeol. Rock singer Jung Joon-young could also be seen here as one of the paparazzi. After making their way through the paparazzi, they turn and begin to sing, while raising each arm, making all but one of the paparazzi follow their every move. Taeyeon then leads the girls though a hallway in new outfits, where they dance, and continue on. The video then cuts to Tiffany in a dressing room chair, holding a dog and being offered clothes by different women, next Seohyun begins to walk towards the camera as women all hold up different pairs of shoes for her to choose. The three girls then sit down and have women apply makeup as they continue singing. Next, Tiffany, Taeyeon, and Seohyun are seen sitting with EXO-K member Baekhyun as they chat and get ready. Seohyun whispers something funny to Tiffany and they finish getting ready.
Tiffany then leads the girls as they continue their walk though a hallway and are passed by EXO-K members Sehun and Kai, who then high-five each other after dancing with Tiffany. They are then shown on a stage where they sing into microphones and dance, a curtain appears. When it parts, Seohyun is on the buildings roof, with a grand piano and a lit-up sign saying "Girls' Generation Twinkle" behind her. Tiffany and Taeyeon descend down the stairs on either side before it cuts to them with their backup dancers on the roof and on the stage. As the song finishes, "안녕" (Goodbye, Hello) starts playing, and the video cuts back to the paparazzi outside, who react when one of the front doors open, assuming it's one of the girls. But after they rush up, they find out it was only the dog that Tiffany was holding earlier. The camera pans up to the roof, where the three girls are looking down and laughing.
Watch the video here.
Superstar SMTown Group Theme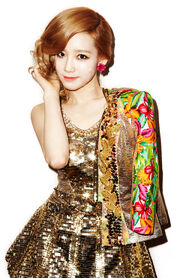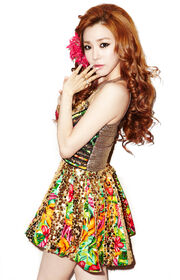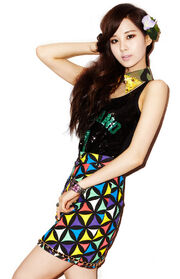 Twinkle can be chosen as a group theme for Girls' Generation-TTS.
The icons for each member's card is taken from the Twinkle photoshoot of each member.
Ad blocker interference detected!
Wikia is a free-to-use site that makes money from advertising. We have a modified experience for viewers using ad blockers

Wikia is not accessible if you've made further modifications. Remove the custom ad blocker rule(s) and the page will load as expected.