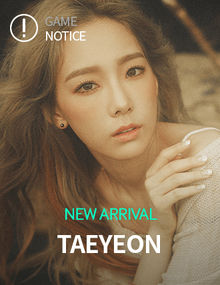 Taeyeon was introduced the game in October 14, 2015 12pm KST with her debut single I (EP).
Discography
Album
Song
Date Released
Length
Notes
Digitally and Physically
in the Game
Original
in the Game
Easy
Normal
Hard

I (The First Mini Album)

I (Feat. 버벌진트)

October 14, 2015 12:00 PM
3:26

U R

October 29, 2015 6:00 PM
4:34
쌍둥이자리 (Gemini)
3:40
스트레스 (Stress)
3:21
먼저 말해줘 (Farewell)
3:42
I (Instrumental)
not available
3:23
not available
not available
not available
not available
Cards
Ad blocker interference detected!
Wikia is a free-to-use site that makes money from advertising. We have a modified experience for viewers using ad blockers

Wikia is not accessible if you've made further modifications. Remove the custom ad blocker rule(s) and the page will load as expected.