SWING

EP by Super Junior-M
Released:
March 21, 2014
Recorded:
2013–2014 at SM Studios in Seoul, South Korea
Genre:
Mandopop, R&B, Dance, Electropop
Language:
Mandarin
Length:
21:30
Label:
S.M. Entertainment, KT Music
Producer:
Lee Soo-Man
Super Junior-M chronology
previous
Breakdown
(2013)
next
TBA
SWING is the third EP and fifth overall release by Mandopop boy band Super Junior-M, a sub-group of the South Korean band, Super Junior.
Currently, there are three songs from the album included in Superstar SMTOWN.
Tracklist
※ Bold track titles means the track is currently playable.
"嘶吼 (SWING)"
"飞翔 (Fly High)"
"无所谓 (My Love For You)"
"强势入侵 (Strong)"
"入迷 (Addiction)"
"一分后 (After a Minute)"

Superstar SMTOWN Group Theme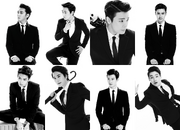 SWING can be chosen as a group theme for Super Junior-M.
The icons for each member's card is taken from the SWING photoshoot of each member.