Pink Tape is the second studio album by multi-national girl group, f(x).
Currently, there are six songs from the album included in Superstar SMTOWN.
Tracklist
※ Bold track titles means the track is currently playable.
"미행 (그림자; Shadow)"
"Pretty Girl"
"Kick"
"시그널 (Signal)"
"Step"
"Goodbye Summer" [f(Amber+Luna+Krystal) (feat. D.O. of EXO-K)]
"Airplane"
"Toy"
"여우 같은 내 친구 (No More)"
"Snapshot"
"Ending Page"

Superstar SMTOWN Group Theme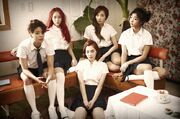 Pink Tape can be chosen as a group theme for f(x).
The icons for each member's card is taken from a still from the Pink Tape art film that accompanied the album's release.