SWING is the second studio EP by Super Junior-M, a sub-group of the Super Junior.
Currently, there are two songs from the album included in Superstar SMTOWN.
Tracklist
※ Bold track titles means the track is currently playable.
"태완미 (Perfection)" (Korean Edition and repacked only)
"太完美 (Perfection)"
"命運線 (Destiny)"
"幸福微甜 (Love is Sweet)"
"表白 (Off My Mind)"
"True Love"
"吹一樣的風 (My All is In You)" (remake of Super Junior's 사랑이 이렇게)
"西風的話 (The Whisper of West Wind)" (The folk song of Taiwan, only released in the Repackaged Version.)

Superstar SMTOWN Group Theme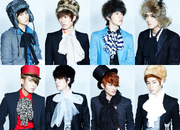 Perfection can be chosen as a group theme for Super Junior-M.
The icons for each member's card is taken from the Perfection photoshoot of each member.