Coupons are a game feature that was introduced in the game in the 1.3.0 game update on December 9th, 2015.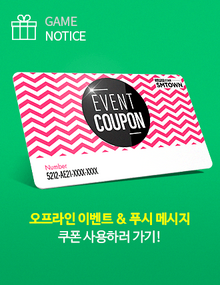 Codes in Push Notifications
Time Released
Notifications on the Game (In English & Korean)
Code
Prize
December 10, 2015 - 6 pm KST
Did you know a coupon feature has been added to the game? Enter [DALCOMGIFT] now to receive Diamonds!
DALCOMGIFT
10 Diamonds
슈스엠에 쿠폰이 추가된 걸 알고 계셨나요? 지금 [DALCOMGIFT]를 입력하고 다이아몬드 선물을 받아보세요!
December 24, 2015 - 12 pm KST
Enter [WISHTREE] to receive a Christmas Eve S card gift! Don't forget to check out the special events for the Christmas season!
WISHTREE
S Card
[WISHTREE] 입력하고 크리스마스 이브 S카드 선물 받으세요! 크리스마스를 기념해 준비한 다양한 이벤트도 잊지 말고 확인하세요!
December 25, 2015 - 12 pm KST
Christmas day only! Enter [MERRYXMAS] to recieve 50 diamonds now! Also, check out our special events for Christmas!
MERRYXMAS
50 Diamonds
크리스마스 단 하루! [MERRYXMAS]를 입력하면 다이아몬드를 받으실 수 있어요! 지금 바로 확인하세요!
December 31, 2015 - 6 pm KST
Enter [DONOTSHAREID] to receive 10 headphones! If you cannot participate in the event because you have not cleared all missions yet, use the coupon now!
DONOTSHAREID
10 Headphones
January 1, 2015 - 12 pm KST
Enter [WELCOME2016] to receive 20 Diamonds! Don't forget the special gift and happy new year!
WELCOME2016
20 Diamonds
Ad blocker interference detected!
Wikia is a free-to-use site that makes money from advertising. We have a modified experience for viewers using ad blockers

Wikia is not accessible if you've made further modifications. Remove the custom ad blocker rule(s) and the page will load as expected.